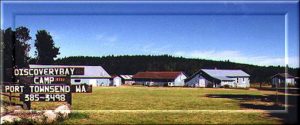 Hey everyone!
We hope this update finds you well. I wanted to write sooner but we have been very busy. Our family has made the move out of Poulsbo and into Discovery Bay! We are so grateful for the family and friends who helped us load and unload all our stuff. Moving is hard. It's always more work than I remember. Isaac and I have been working on unpacking and learning the base schedule. Right now, the activity level is just beginning to pick up for the staff.
The next school is a TESOL and will begin late April. It's really neat to see how the previous DTS students love this place. Being a part of this ministry truly changed their lives. Two of the young women who just finished DTS are going to come back to do the TESOL! Our base is multigenerational and we expect this next school to be a mixture of ages – A retired pastor and his wife, a family with little children and some young adults to list a few.
I didn't know what a TESOL was before getting involved with the base. TESOL stands for Teaching English to Speakers of Other Languages. It is an incredible tool for missionaries because it opens the doors to share the gospel. English is the world's language of business and many people are eager to learn it. Word on the base is that this school is INTENSE – lots of homework, and long class hours. This is an accelerated course. The payoff is worth it though as those who complete the TESOL will be certified to teach.
Yesterday we welcomed a group of Jr. High boys from South Carolina. They come to YWAM DB every year as a part of their school outreach trip to the NW. They will mostly be working in the community, but have meals with us and sleep in the boy's dorm. These guys are just the sweetest southern gentlemen! They're very polite and helpful. We're praying God changes their hearts and grows them, as they serve those in need.
I took the kids for a walk the other day. Although it was chilly, the sun was bright and the sky was a beautiful blue. They had so much fun running through the field near our house and playing in the woods. I just had this sense of peace wash over me, and I thanked God for bringing us to this season, in this new place. As we form relationships with the people here and begin to learn our responsibilities Isaac and I want to be purposeful in remembering this is all for Gods glory. Whether leading worship or gluing paper crafts for the next school. Whatever you do, do it for the glory of God!
Financially we still need to raise more monthly support but we have enough to cover our staff fees (so we can live here! Wa-hoo.) I've had several people tell us they want to give but have had trouble with the site. If you want to donate but need help, please feel free to email me and I will try to help. The website is https://www.ywamdb.org/donate.
Thank you for all your generous support financially and in prayer! We really do think of you and pray for you. I have this grand idea to make a video showing the base etc. So maybe next time I can include that for you all (if I can get my creative husband to help me!)
Blessings!
Kristi