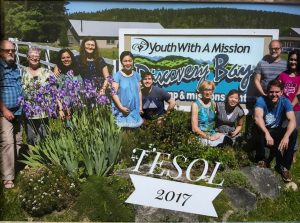 Hello friends and family,
We hope you have been enjoying the nice weather that spring brings.  Out here in Discovery Bay we have had mostly sunny days, and it has been so awesome! There is something wonderful about spring and new life that reminds us of God's goodness.  He loves to give good gifts, and brings him pleasure to see his children enjoying the world he created!
Aside from enjoying the beautiful weather, we have been busy helping with TESOL. The base had ten students successfully complete the course which wrapped up last week. These students were incredibly dedicated and passionate about using what they learned to impact the world. I interviewed a couple of them so I could show you a piece of their hearts.
"God has given me a love for languages, and I know I'm supposed to use it for His glory. That's why I decided to do the TESOL, so I can be qualified to teach English overseas. It was a big step for me to come here and do this! It really stretched me spiritually, and intellectually. I love the community here. I felt very convicted and encouraged by it.  Through my experience here, God has taught me that He is big enough to take care of me as I venture out into the mission field. God's heart is so in missions."      – Bethany Tanaka, 20-year-old from Poulsbo, WA
"Doing a TESOL was the next step for us. God has given us a vision to be a bridge to the Korean people. We plan to move to Korea within the next few years and plant a church. There is a lot of division in the international community, even between Christians.  Having the knowledge, we gained through TESOL is like a tool in our tool belt. It will enable us to bridge the gap through teaching English, and open doors for the gospel. We are so excited to be used by God in this!"
-Noah & Bora Wilson, from YWAM Salem, OR
Something cool about the Wilsons – They are a young couple in their late 20's. Bora is Korean and Noah is from the East Coast. They met while serving with YWAM (like so many people do!) They now have two precious children, Jinha and Jubliee, and serve at YWAM Salem. It was awesome to see their heart for Bora's home country.  Each student that came had an intentional reason for completing TESOL. And almost every one could tell you how they plan to use it in the mission field within the next few years.  It was really cool to see how our base is a stepping stone for future ministry to take place.
UPCOMING:
Leadership Training Seminar (or LTS, you know how YWAM loves its acronyms!) is starting on June 11th. Isaac and I will be two of the 18 students attending that. This is the first time our base has run an LTS and we don't know exactly what to expect. We are excited though, and hope to be stretched in our leadership skills.  Isaac will be leading worship several times a week for the seminar. It is a 3 week, intensive course and so we have in listed help from my family in taking care of our kids. That is a blessing to us, and will enable us to focus on the course.
Lastly, I have taken over (for the most part) YWAM DB's social media accounts. That's our Instagram, and Facebook. In today's world the main way people are going to learn about our ministry is through these outlets. We have an awesome facility here, and really great staff – we should be running bigger schools. Despite good intentions, it seems like our social media presence and relevancy has been lacking. So, I'm really excited to be working on marketing the base. The only problem is… I have no idea what I'm doing.  I've been reading articles about how to market through social media, and Isaac and I are drafting up ideas about a promotional video. So, that's a start! God has stewarded YWAM DB to us, and we are responsible to do our best with what He has given. We want to see this ministry grow and change more people's lives!
How you can pray:
God opens doors for the TESOL students and enables them to fulfill the dreams he gave them.
That God will help us to focus, and get all that He has for us out of the LTS.
That we will be able to balance family time with ministry/school responsibilities.
We will have wisdom and open doors to manage the bases media marketing. Word spreads about YWAM DB.
That God will bring more students to YWAM Discovery Bay
Thank you all for your love and support! We are so grateful for you.
Blessings,
Isaac, Kristi & the crew