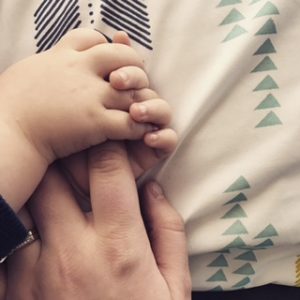 Since Isaacs accident in 2010 I've encountered a handful of families who have gone through traumatic accidents.  I connect with them because I can relate. And I try to encourage them by our story.  So many people did that for Isaacs family and I when he was in a coma. It really helped us to know others had gone through the same thing.  It gave us hope. And now hope is what I want to give to those I find in similar situations.
"He comforts us in all our troubles so that we can comfort others. When they are troubled, we will be able to give them the same comfort God has given us." 2 Corinthians 1:4
So when I read the story of a baby boy who was in a coma after nearly drowning in a bucket of water, my heart was broken for the family. I sent them a message and told them we were praying, I shared Isaacs story and offered hope for healing. For our God is mighty to save.  The Houston family is a family in my community. Craig is a pastor at a local Baptist church. He and his wife Emily have ten children (gotta give them props for that – so awesome!)
Craig and Emily had been out of the house while their older children watched the younger ones. The youngest, 11 month old Lemuel, got downstairs and fell into a bucket of water. As soon as they found him, his brother started CPR. They called 911, and Lemuel was transported to the hospital where he was revived. Everyone did everything right as best they could. Baby Lemuel was unresponsive and in a coma, but he was alive.
You can read the news paper article here —> Kitsap Sun News
The Houston family was amazingly strong and reflected Christ in their suffering. I have been so encouraged by their faith and steadfast reliance on the Lord.  Through all the heartache, they have been the light of Christ. For two weeks sweet Lemuel remained unresponsive in the hospital. His family surrounded him, sang to him, held him and loved him deeply. Hundreds of people joined together in prayer, doctors and nurses did everything they could and we all waited, hopefully, for healing.  I was confident this little guy would wake up. God healed Isaac, of course he would give life to this innocent baby! So I was in shock when I heard Lemuel had passed away. His parents held him, and all was peaceful as he went to be in Paradise with Jesus.
You can read his parents blog here —> Houston Blog
When I got the news Lemuel had passed I cried with a heavy heart for the Houston family. I prayed, "Why God? Why did you let this happen? I don't understand." I felt angry. Not at God, but at the reality of death and loss.  I know in my heart that Jesus hates death and loss too. He wept at Lazarus' grave even though he knew he would raise him from the dead! Why did he weep? I always thought it was because he empathized with the sorrow of those who loved Lazarus. Jesus went to the cross to kill death and put sorrow in its grave. No longer does death have the final say – for those in Christ have hope of REAL eternal life. C.S. Lewis believed the life to come is more real than this one and I believe that must be true.
I remember laying in a hotel room, wondering every night if Isaac would live or die. I had to let go, moment by moment, and put my hope in God. Whatever happens, my God is still good. In Christ alone my hope is found. I remember coming to a place spiritually where I said, "I trust you God, whatever happens, I still love you. You alone have the words of life." And though our story has had trials, God chose to restore Isaac. I am grateful everyday! But what if our story had a different ending? What if the man I loved had died? What if his family and I had been forced to say good-bye? We certainly would have walked a different road of healing. And I will never understand why God does what he does. All I know is we must give him glory whatever situation we find ourselves in.
My family and I grieve with the Houston family. I cannot imagine the depth of sorrow felt by the mother who has to bury her baby. Or the grief felt by the father who must let go of his son. The regret and heartache felt by siblings who wonder "what if" things didn't happen the way they had.  They will always miss this sweet son and brother.  But their faith has been evident as they hold onto the hope they have in Jesus Christ. Death is not the end of the story. God always knew what would happen on that day, and He is an expert at bringing good from the bad.  He gives grace upon grace.
Like the Houston family, we must continue to trust that God knows better than us. We must believe that He saw it was better to take Lemuel to Heaven, even though it leaves his family broken and on a road of healing.
"We sorrow, but not as those who have no hope."
Join in prayer with us as we continue to remember this dear family. Jesus loves them deeply, and enters into their sorrow. I know he feels with each of us – with them especially, as they grieve. May Jesus use them, and be glorified through them as they continue to hope in Him.
Our God is mighty to save.
~Kristi~