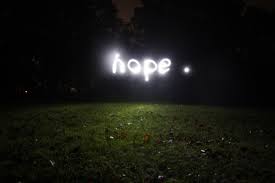 I faced a disappointment this week. Nothing as serious as a health issue or a death. But a disappointment none the less. You know how your true heart comes out when you are all alone in the quiet? I found myself crying in that quiet space as the weight of this disappointment lay on me. And all I could do was repeat what the Spirit put on my heart.
"He has not abandoned you. Your God is faithful to the end. He has not abandoned you. Just as a nursing mother can't forget her new baby God can't forget you. He is not too weak to save, but sovereign in allowing you to go through heartache." Certainly a comforting message. But why I wondered do I even feel like this? Disappointment is something that comes with a fallen world of course… but as a child of God where do I go from here? What do I do with this? How can he remedy it?
I realized a big part of the reason I felt such a blow from this specific disappointment was because I had been putting hope in it. As if it were a "savior." "If only this would work out! Then things will be better for us." Granted that's normal right? Like everybody wants good things to happen in their lives, we all want to feel purpose and live comfortably. I don't condemn people for wanting good and God doesn't either. But Jesus does say, "If you want to be my disciple you must HATE everything else in comparison, you must be willing to LOSE it all for me." (Luke 14:25-27) Seeking your own "good" is no longer top priority. Loving Jesus is.
Hope is essential to the human heart. Proverbs 13:12 says "Hope deferred makes the heart sick, but a longing fulfilled is a tree of life." We must have hope to keep going. I remember being a teenager and young adult filled with hopes and dreams. That's one of the things that makes that season of life so amazing. Your future is before you! There's a world of possibilities at your feet and it's that hope that drives us forward. Having hope in something keeps our souls looking up.
And the world provides us thousands of options about where to put our hope. In a career or achievements, in financial security, in a spouse, in friends, in a home or possessions, in something new, you fill in the blank. We can build our hope on so many things, but every one of those will fail us eventually. We were never meant to have a substitute savior. The truth is that when we put our hope in anything but God we turn our hearts away from Him and become hopeless.
"This is what the Lord says: Cursed are those who put their trust in mere humans and rely on human strength and turn their hearts away from the Lord. They are like a stunted shrub in the desert with no hope for the future. They will live in the barren wilderness and uninhabited salty land. But blessed are those who trust in the Lord and have made the Lord their hope and confidence. They are like trees planted along a riverbank, with roots that reach deep into the water. " Jeremiah 17:5-8
Cursed or Blessed. Stunted shrub or growing tree. Where do you place your hope? I'm still processing this and learning what this means for the Believer as we walk out our faith. I don't fully understand how God will remedy the brokenness we face in life. But I do know he is a firm foundation – a solid rock to build upon. So I will choose to build my hope on Christ the rock. Today that looks like letting go of my "hopes" and being satisfied in Him. Trusting that He is still good and the future is bright in Him. He is my reason to dream and remain hopeful about tomorrow.
"Now may the God of hope fill you with all joy and peace as you believe in Him, so that you may overflow with hope by the power of the Holy Spirit." Romans 15:13
Blessings,
Kristi